Upload Your Pictures from iPhoto
January 30, 2012
Our Mac-using users often ask us how they can upload their pictures from Apple's iPhoto to Picnshow. It's easier than you might think! In the file browser window that appears when you click the "Upload Images" button in the Picnshow Editor, simply navigate to and click on "Photos" under the "Media" heading of the left-hand side of the window. From there, you can browse and select photos from your iPhoto albums, recent imports from your camera, or anywhere in your iPhoto library!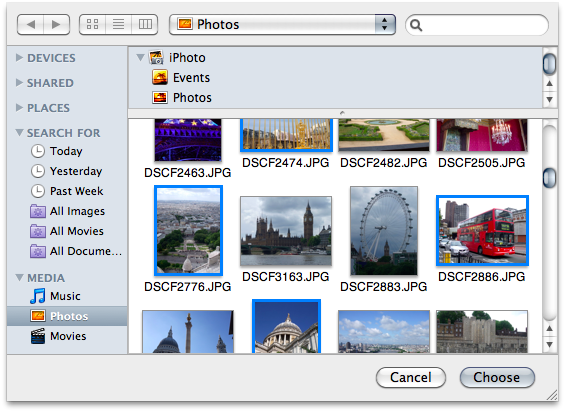 An alternative way to upload your photos from iPhoto is to first select the album(s) or photos from within the iPhoto application itself and choose the File > Export... menu option to save the photos to a convenient directory, like your Desktop. Then, from the Picnshow Editor's "Upload Images" dialog you can find and select the photos you'd like to upload from the location you saved them. This same technique also works with many other photo management applications.
At Picnshow, we're always looking for ways to make life easier for our users. For iPhoto users, we're considering developing an iPhoto plug-in to make uploading your pictures directly from iPhoto to Picnshow even simpler. If you're an avid iPhoto user who would like to see this feature added to Picnshow, please don't hesitate to contact us and let us know.